Jadyn is 34 months old &; Gabe is 15 months old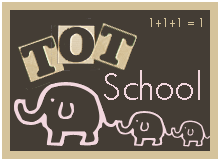 This week we reviewed our ABC's and enjoyed the beautiful weather! We'll be taking a "Tot School" break until after we move! Next week we'll start packing boxes!!!
Jadyn laced her butterfly.
Jadyn put together her Dinosaur puzzle.
Jadyn loves the alphabet power point from
1+1+1=1
.
Jadyn enjoyed coloring her Madagascar coloring book. She thinks King Julian is so funny!
A backhoe ride with Uncle Seth & Mj
Mj made a cover for his research report and guess who else decided to make a cover for their paper! Monkey see. Monkey do.
Gabe was sick part of the week with a fever. Doesn't he look so pathetic? Mickey Mouse Clubhouse made him smile a little bit.
Enjoying some fun in the sun!!
Thankfully, Gabe was able to enjoy some sunshine, too!
Gabe & Jadyn playing with the scooter! I love watching them play together!