Gabe is 31 months old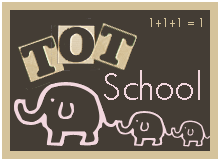 I'm getting my tot school post up late because of the holiday weekend, but here's what Gabe was up to last week. Gabe has been doing a great job with his colors. We've really been working on them and counting to 3 this week. Here's his week in pictures.
Gabe and big sister Jadyn playing a fun color match game. Gabe decided the tweezers would make a great head accessory!

Gabe has been dying to play Hi Ho Cherry-o with the kids, so I revamped it and made it a color game and a motor skill game for him. I would tell him to put the cherries in the blue bin and then he would choose a color and dump all the cherries into that color bin. Great entertainment!
Of course, a day is never complete without raiding the car bin.
Some coloring practice.
This boy loves cars and trucks!
He learned that if you put a bucket on your head you will run into things, lots of things! LOL
He loves his new basketball net from the Garcia's. He's got some mad skills! ;)