Gabe is 9 months old and Jadyn is 29 months old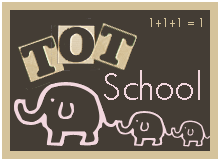 Our focus this week was on the letter "i". Our week started off great. Jadyn was so excited to "do school," but by Wednesday she just wanted to play. So that's what she did. I'm enjoying watching her interact with Gabe. She loves him to pieces (literally - I think she's going to break him into pieces she hugs him so tight!)! Here are pics from our week.
I is for Iguana and Inchworm. I love the craft ideas on
Totally Tots
!
We used a bunch of Inchworm printouts from
Confessions of a Homeschooler
.
Jadyn matched her inchworms by color.
She laced a big inchworm!
Jadyn colored her "i" paper and yes she is wearing Christmas pajamas. LOL
Playing with her purse and practicing her counting.
Poms poms + Toilet Paper Tube = Loads of fun!
Color sorting pom poms in a muffin tin.
Baking brownies with Mj and Mommy! They're great at stirring and the kitchen was pretty clean afterward!=)
Of course, this is the best part of making brownies!
I pulled Baby Tad out and he was quite the hit with both Jadyn and Gabe.
It's quite the challenge to keep Gabe happy in his pac-n-play. He wants to be out crawling and causing havoc in the school room!=) He's all over the place and is so proud of himself! I love watching him explore and discover new things!
I think Gabe's trying to tell me he wants some workboxes, too since he took all of Jadyn's boxes off her shelves!
Jadyn and Gabe played with wooden spoons, measuring spoons, and rubber made dishes while I cleaned the kitchen.
My favorite pic of the week! Jadyn is all about Gabe right now. She wants to hug him and hold him all the time. Well..... this is what Gabe thinks about it! LOL!!!!!