Jadyn is 30 months old and Gabe is 10 months old.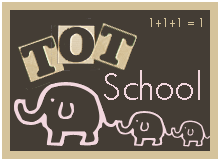 This week in Tot School we focused on Christmas! Jadyn loved the extra Christmas fun we had planned! I got the printables from
Confessions of a Homeschooler
and
1+1+1=1
. I'm so thankful for the work they do and the free printables they allow us to use! It has really made our Tot School so much fun!
Jadyn put the people and animals of the nativity in the correct place. Of course, she had fun putting them in the wrong place first with a smirk on her face! =)
Jadyn and I put a Christmas puzzle together.
Jadyn does a great job of putting the Baby Jesus pictures in order of size.
Jadyn works on sequence.
Jadyn decided to play with her transportation puzzle. It was nice to get that out for awhile.
For our advent calendar, we read about the wise men and talked about Christmas trees. Jadyn colored a picture of the wise men and glued and painted a Christmas tree! She really enjoys glitter glue! LOL
Gabe enjoyed playing (um... I mean chewing) on the wood nativity.
He has just discovered the "ball train" as Jadyn calls it. This was a favorite of his this week.
My favorite pic of the week - Taking pics with Jadyn. I'm still in awe of the miracle that God gave us 2 and 1/2 years ago in our sweet Jadyn Grace. We didn't deserve God's kindness in giving us this girl that doctors said would never happen.
Now we're looking forward to Christmas break and time with our family! Wishing you and your families a Very Merry Christmas!!!
Luke 2:11 "For unto you is born this day ... a Savior, Who is Christ the Lord."